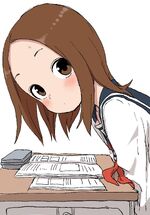 Nishikata-chan is a spin-off and the sequel of Karakai Jōzu no (Moto) Takagi-san. It was made by Sōichirō Yamamoto.
Synopsis
[
]
(Chī) Nishikata-chan tries to be freinds with an unnamed boy in junior high.
Characters
[
]
Releases
[
]
As of August 2020, there are only 2 chapters released.
Chapters
[
]